Father of Lucky Peterson, James Peterson was born in Russell County, Alabama on November 4, 1937. An accomplished vocalist and self taught guitarist, James has written hundreds of songs. He has a strong gospel influence and began singing in church as a child. James states that in 1954, he started singing in Gary, Indiana with John Scott and it was at this moment that he realized what he wanted to do.
James counts Little Milton as one of his heroes, and Howlin' Wolf's "Trouble No More" as a life changing record. In the early fifties James opened the Govenor's Inn: The House Of Blues which featured artists such as Jimmy Reed, Howlin' Wolf, John Lee Hooker, Junior Wells, Buddy Guy and Muddy Waters.
James has played all over the world and has recorded six solo albums of original material. He has also laid down his soulful gut wrenching vocals on three Willie Lomax albums for the Big Boss label collaborating with Lomax on several selections.
James currently resides in the St. Petersburg, Fl. area and performs regularly throughout the Tampa-St. Petersburg area when not touring nationally. James states that his worst professional nightmare is "bad harmonica players...everyone tries."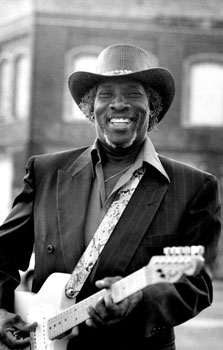 James Peterson is featured on these Big Boss Recordings:
RIBS ARE READY
WILLIE LOMAX BLUES REVUE
BB99002
$12.99
PREVIEW

GIVE ME BACK MY TEETH
WILLIE LOMAX BLUES REVUE
BB96001
$12.99

PREVIEW

RAZORBACK / WORKIN' TO THE BONE


WILLIE LOMAX BLUES REVUE
45RPM
BMR014
$8.99